A lot has been said about heroes and death. Endless stories are dedicated to monsters and battles, shipwrecks and bullets. Though some of those stories did not reach the shore. Some people died at sea, far away from their loved ones, their children, their homes. No matter how heroically they had stood at the helm, sailing through the fog. They were lost, forgotten, with no prayers, or a grave. My great-grandfather was such a man.
Gerrit joined the resistance in World War II. He was betrayed, then imprisoned, shot, and provisionally buried in the dunes. Until this day, there is no personal grave, just a symbolic gesture of the government. No place of his own, no rest – and now, I'd like to give him that. In theatre, the place he loved best.
---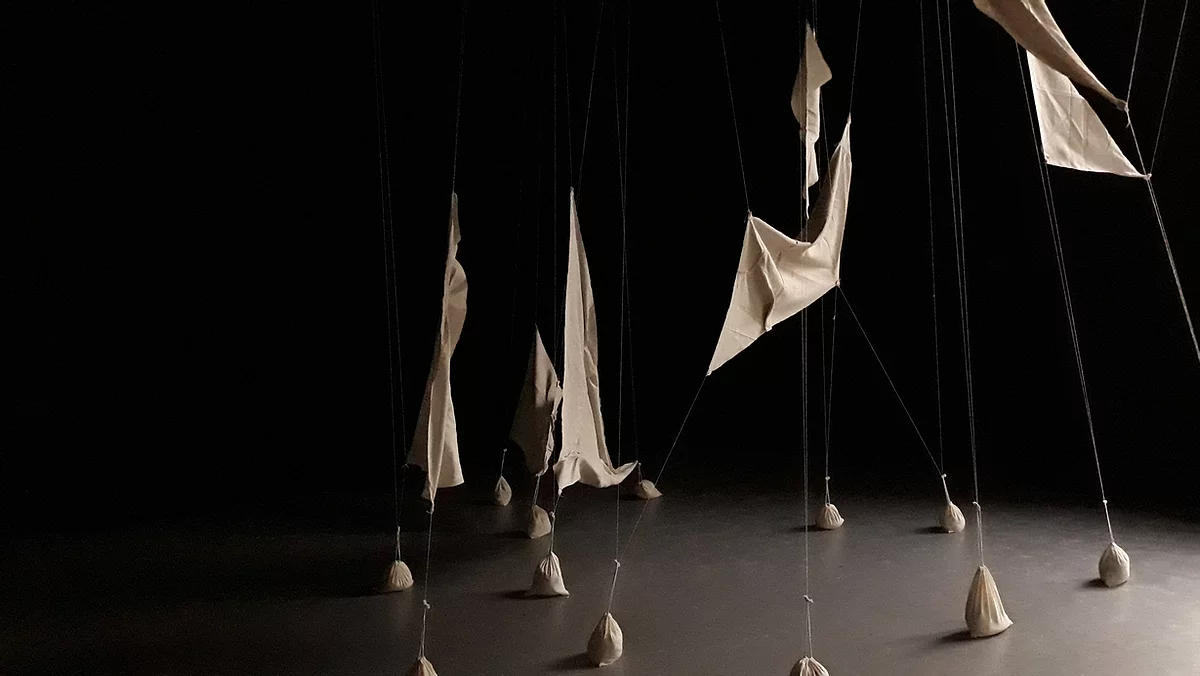 ---
DESIGN FOR THE DECEASED
Designing a shroud for someone whose body no longer exists is slightly complicated. The work consists of nine canvasses, seven of which are suspended in the air, and two are discussed later during the ritual. The geometric shapes stem from his love of sailing and the construction with ropes from theatre. There are nine of them, because he wrote his poetry in nine years. And so, each canvas represents a year between 1925 and 1933.
There are folds and creases in every piece. These are the poems, placed on the canvas in a fixed division of twelve months. This way, the canvasses reveal the pattern of all his writing. I shaped the folds after enlargements of his long, taut handwriting. In the months where he wrote a lot, there are multiple folds on both sides of the canvas. In months with less, only on one side. If he didn't write, the canvas remains blank.
---
---
THE CLOSE
It's some kind of dance, this rite of closing. I, as a great-grandchild, take down the cloths. They resemble flags, which have hung both high and half-mast. I untie the cloths in silence and I look for connection. A theatrical gesture. This is where the shape of the seven canvases comes into play. Together they form a tangram. A puzzle that forms figures from a set of shapes. The first is a man who recites. He has a book in hand and is standing and addressing an audience. This is my great-grandfather as speaker, as writer and as helpful person. The form flows into the following. A man who acts. An actor, a theatre man. He and I are the only ones in our family who have ever ventured into it. I place the last shape. A man who bows. One final bow to the end. A chosen farewell. I look at it for a moment and bow. I fold all the canvases into a pile of triangles. This is where the eighth and ninth cloths come in. The first is a burial shroud, to wrap the stack, as you would with a body, and the second is a cover. A coffin. A resting place. I fold and bind it into the shape of a seal. One that I bury.
---
Shipwreck is a project in collaboration with Fashionclash and artist Valentine Kempynck. The filmed mini-documentary will be shown online during Fashionclash 2020. This project was realized with the help of Paulina Immig and Nine van Weert.