A lot has been said about heroes and death. Endless stories are dedicated to monsters and battles, shipwrecks and bullets. Yet some stories did not reach the shore. Some people died at sea, far away from their loved ones, their children, their homes. No matter how heroically they had stood at the helm, sailing through the fog. They were lost, forgotten, with no prayers, or a grave. My great-grandfather was such a man.
Not a castaway, though he loved sailing. He joined the resistance in WWII and was betrayed, then imprisoned, shot, and provisionally buried in the dunes. He loved the theatre, acted a lot, and also wrote many, many poems. He had two daughters and a wife, a hardware store and a boat. But no grave, only a symbolic gesture of the government. No place of his own, no rest – and now, I'd like to give him that. A shroud and a closing ritual, in three parts.
---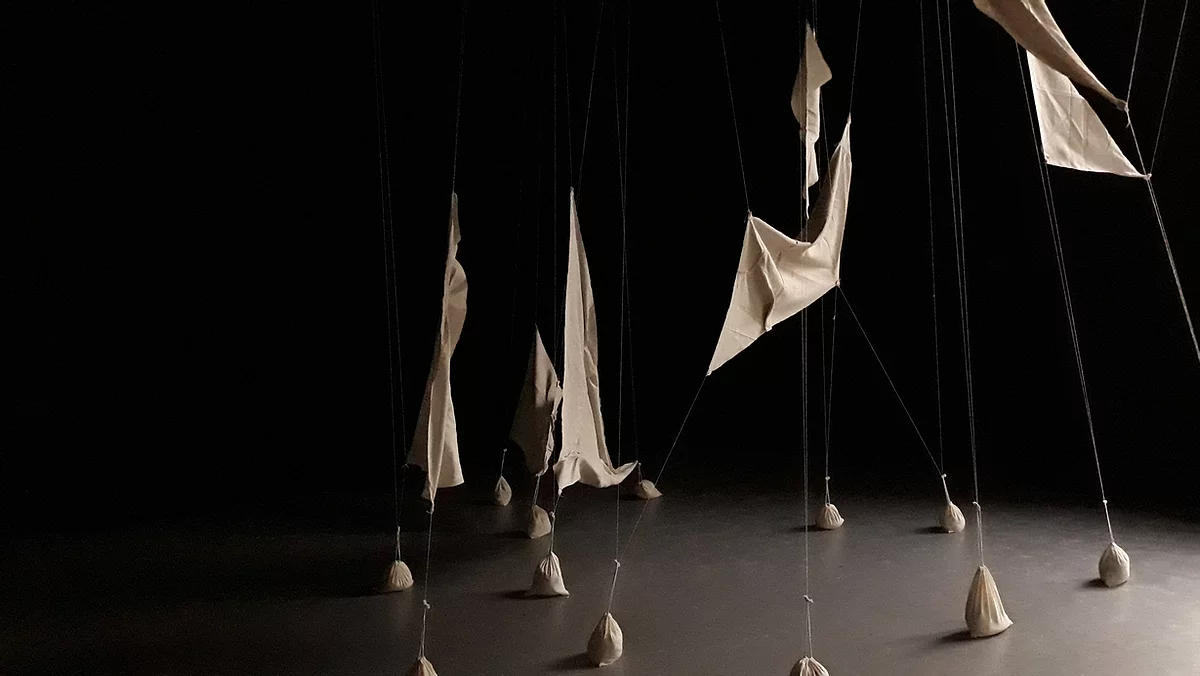 ---
A DESIGN FOR THE SPIRIT
Designing a shroud for someone whose body no longer exists is slightly complicated. I decided that the shroud would symbolize him. His essence is his own shroud. The design consists of nine canvasses, seven of which are suspended in the air, and two are discussed later during the ritual. The geometric shapes stem from his love of sailing and the construction with ropes from theatre. There are nine of them, because he wrote his poetry in nine years. And so, each canvas represents a year between 1925 and 1933.
There are folds and creases in every piece. These are the poems, placed on the canvas in a fixed division of twelve months. This way, the canvasses reveal the pattern of all his writing. I shaped the folds after enlargements of his long, taut handwriting. In the months where he wrote a lot, there are multiple folds on both sides of the canvas. In months with less, only on one side. If he didn't write, the canvas remains blank.
The nine parts are made of linen. A solid and rich fabric, which almost looks like silver when the light shines on it and shows all its threads on the other side. Open, but fixed. And that suits who I think he was; brave, warm and stubborn. All threads are white wool, cleansing, perhaps. And the cotton bags that keep the threads and cloths in the air are filled with soil and flower seeds.The space resembles a museum. Monumental.
A PUBLIC AFFAIR
Deceased resistance heroes lose their individuality in their death. They will be honoured as a national icon and given a grave similar to that of their equally noble neighbour. With the ritual I want to release my great-grandfather from the public eye, in order to return his authenticity. That is why the first part of the ritual is public, comparable to walking in the honorary cemetery of Bloemendaal. The public is welcomed in a museum and can view the shroud up close and walk through it. There is a track playing with sounds from other times, sounds that I think suit him. It is open to association and you are free to internalize the story, as with all connected to war stories. It serves the social purpose of empathy and awareness. And then it is done. The sounds end, the audience leaves. The space is open. And we are alone. The deceased and his kin.
---
---
THE CLOSING
The second part of the ritual begins. I, as a great-grandchild, take down the cloths. They resemble flags, which have hung both high and half-mast. I do all this in silence. I untie the cloths and collect the threads and bags of soil. I carefully stack the seven parts together. And then I look at the open floor.
For a man who loved theatre and stories so vividly, I want a theatrical end gesture. This is where the shape of the seven canvases comes into play. Together they form a tangram. An age-old puzzle, which makes figures from a set of shapes. An intelligent code, for an intelligent man. The first form is a man who recites. He has a book in hand and is standing and addressing an audience. This is my great-grandfather as speaker, as writer and as a helper of people. Someone who is thoughtful and smart, and who moves from his calmness. The form flows into the following. A man who acts. An actor, a theatre man. He and I are the only ones in our family who have ever ventured into it. It was what made him happy and what gave him the fire to carry on where others stopped. I place the last form. A man who bows. One final bow to the end. A chosen farewell. I look at it for a moment and bow. And with that the second part of the ritual ends.
TO WALHALLA
For the third and last part, I disappear to the personal beyond the internet. To a funeral, somewhere, beyond the world of the public eye. I show my movements until I leave. I fold all the canvases into a pile of triangles. This is where the eighth and ninth cloths come up. The first is a burial shroud, to wrap the stack, as you would with a body, and the second is a cover. A coffin. A resting place. I fold and bind it into the shape of a seal. A seal of honour, from a great-grandchild, for a great-grandfather.
I will bury this seal. I will scatter the cotton bags with soil and seeds over it so that wildflowers will grow. And those flowers can then be picked by a child who, without mind or meaning, maybe one day gets on a boat himself to beat monsters somewhere, or to help people. Because as long as humanity exist, heroes will be needed. Not always grand or in sight, but certainly not forgotten.
---
Shipwreck is a project in collaboration with Fashionclash and artist Valentine Kempynck. The filmed mini-documentary will be shown online during Fashionclash 2020. This project was realized with the help of Paulina Immig and Nine van Weert.