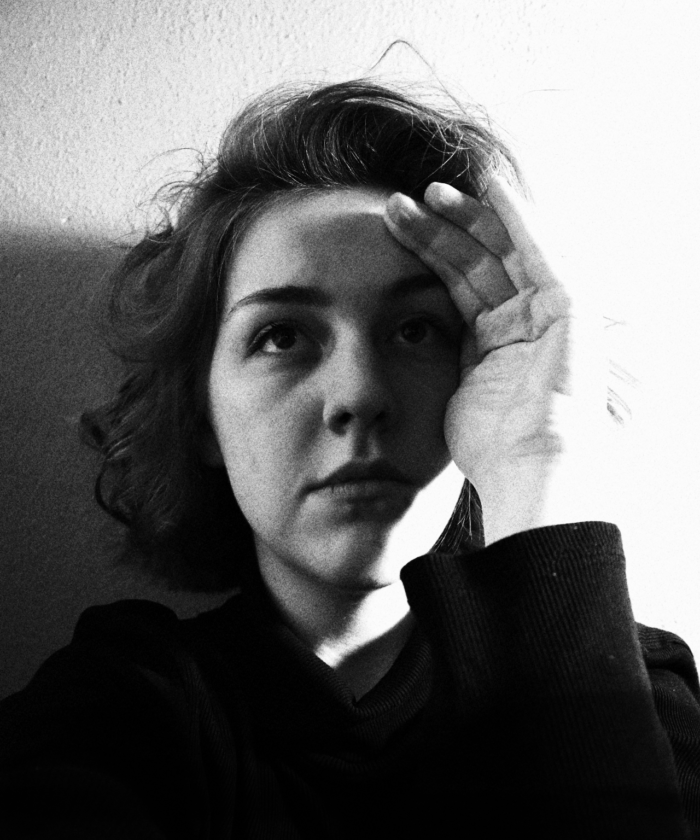 I am an interdisciplinary artist. In other words, I am all sorts of things and what I do or create varies enormously. The stories I tell take the forms that present them best. Sometimes they come out as radio plays, on other days, as documentaries.
In short: I write, act, direct, make music, compose, sing, paint, sculpt, film and photograph. I walk and speak and listen and I pluck at the strings of my violin until I figure where my next journey is taking me.
Currently, I am in my third year of drama school studies at Toneelacademie Maastricht.
---
---
CONTEXT AND CONTENTS
Stories are all around us. They can connect and drive us apart, push us forward and make us stand still. My love for storytelling stems from that, from the motion of the great ensemble. Since the greatest story of all, is the one we live together. We, and everything around us, are the one tale worth telling. As an artist, I do little more than observe and listen, and then, in my own voice, tell what I saw in the people I met.
What I create is philosophical, personal, perhaps a bit on the strange side. I like to show that things can be done differently. That there is more than a facade. The wonderful and the strange. To me, art is not a medium to climb the barricades, screaming. It is an enormous force that, in its stillness, sets things in motion. The things that anger me, I express differently. The work I create, I love.
THE UNSEEN AND FORGOTTEN
I love forgotten things.  The end of the world. People who cannot tolerate daylight, or who actually can, but of whom that is said they cannot. I love the things that are different, not because they distance themselves, but because they turned out to be so. Nature, for one. Languages that are almost extinct. Things that are out of proportion or unpredictable. Unfinished sentences, sounds from within the wall. And scars. Subtext between two people who do not know each other's names. The word waldeinsamkeit, intuition and alone. 
My work often starts in such a corner of the world. And my creative process too.
LINGUISTICS AND MUSICALITY
Almost all I create originates in music. As a score, in poetry and melody. Language and linguistics have always intrigued me enormously, for what sound and definition can do to strengthen and counteract each other. I often try to make them contribute to the movement of a piece. That also means that, among other things, I direct through listening. And I create through singing. When the music of the language, of the movement, of the whole is played, I hear a meaning.
THE SENSORY AND TANGIBLE
Ideally, the worlds I create flourish best in the imagination of an audience. I strongly believe imagination should be exercised and nurtured, rather than dismissed as childlike and useless. Because in the end, it is what gives us character. That is why I look for an inevitability in my work, a way beyond reason, in which a story comes so close that it can no longer be evaded or denied. 
Which brings me to tangibility. The aesthetics of the near and personal. I explore possibilities within the performative spectrum that touch the senses. That which you can or cannot barely see. What you hear in the distance, or what is only whispered to you. A scent that you cannot identify, but you do recognise. The subconscious becomes part of what you experience. And that makes a story a different individual event for everyone.