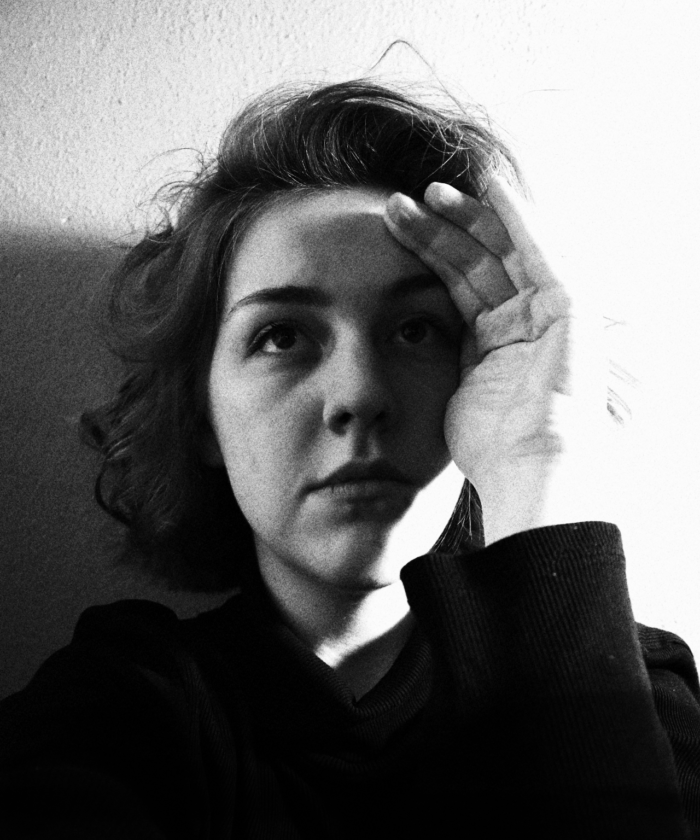 A child's eye on the left, an adult's vision on the right. 
My name is Cecilia Anna Thoden van Velzen and I am an interdisciplinary artist. Fascinated by philosophy, language, music and tangibility, I work to carefully shape my own practice.
Currently I am in my final year of BA Directing at Toneelacademie Maastricht.
---
---
CONTEXT AND ORIGIN OF MY WORK
My work takes on interdisciplinary forms. Think of radio plays in a live theatre setting, documentaries build through sculpting or a theatrical concert in which the musicians use their instruments as unconventionally as possible in order to enhance storytelling. To combine and deconstruct, shape and sculpt. To see whatever's possible if you disregard the rules (there's that child's eye again). Interdisciplinarity provides me with inciting elements that engage an audience in amore direct and sensory way. Ideally, the worlds I build flourish best in the imagination of an audience. I strongly believe imagination should be exercised and nurtured, rather than dismissed as childlike and useless. Because in the end, it is what defines how we experience the world around us. To name that 'genre' I came up with made-up philosophy. Imaginative eposes for adults, that circle around a philosophical topic in a layered and seemingly impossible yet inevitable way. 
In its contents, what I build is philosophical. I like to invite audiences to corners of the world, places of dissonance and quiet, from which to reimagine what we know and fall in love with all we didn't. To me, art is an enormous force that, in its stillness, sets its things in motion. It all comes from a deep love. And practising art is harbouring deep, deep loves for the tiniest of things. Forgotten curiosities to start with. Languages that are almost extinct. Nature that is out of proportion or unpredictable. Unfinished sentences, sounds from within a wall.
All my work originates in sound and listening. In language and music, as a score, in poems and in melody. Language and linguistics have always intrigued me, for what sound and definition can do to strengthen and counteract each other and how powerful a rightly chosen word can be. I often aim to make that search of meaning the movement of a piece. Which is also why I mainly direct through listening.
Which brings me to tangibility. The aesthetics of the experience. I explore possibilities within the performative spectrum that touch the senses. That which you can or cannot barely see. What you hear in the distance, or what is whispered only to you. A scent that you cannot identify, but do recognise. The subconscious becomes part of what you experience. And that makes a story a different individual event for everyone. In the past four years I've been curating these sources – philosophy, language, music, and tangibility – in both artistic and academic ways.