The megalomaniac is a musical storytelling performance about a city with eighty-six lanes. The city in which Oda lives, a young architect who, in a world of numbers, thinks only in words. In an attempt to break free from The Great System, Oda decides to make history by building a tower. A tower that will be the crowning glory of contemporary architecture and the cradle of a new generation of thinkers. But – towers are not easily built. And certainly not in a world beyond belief.
A TALE TOLD
A sound story or a narration with musicians, in other words it is musical theatre . With this performance, I went in search of the power of handed down narratives, whether or not through sung, poetic or prosaic words. In doing so, I connect my fascination for language, the power of the soft, small epic word, with choral pieces and newly composed music. It is the sound of a new night, with different voices. Assisted by an ensemble of instrumentalists and sound design.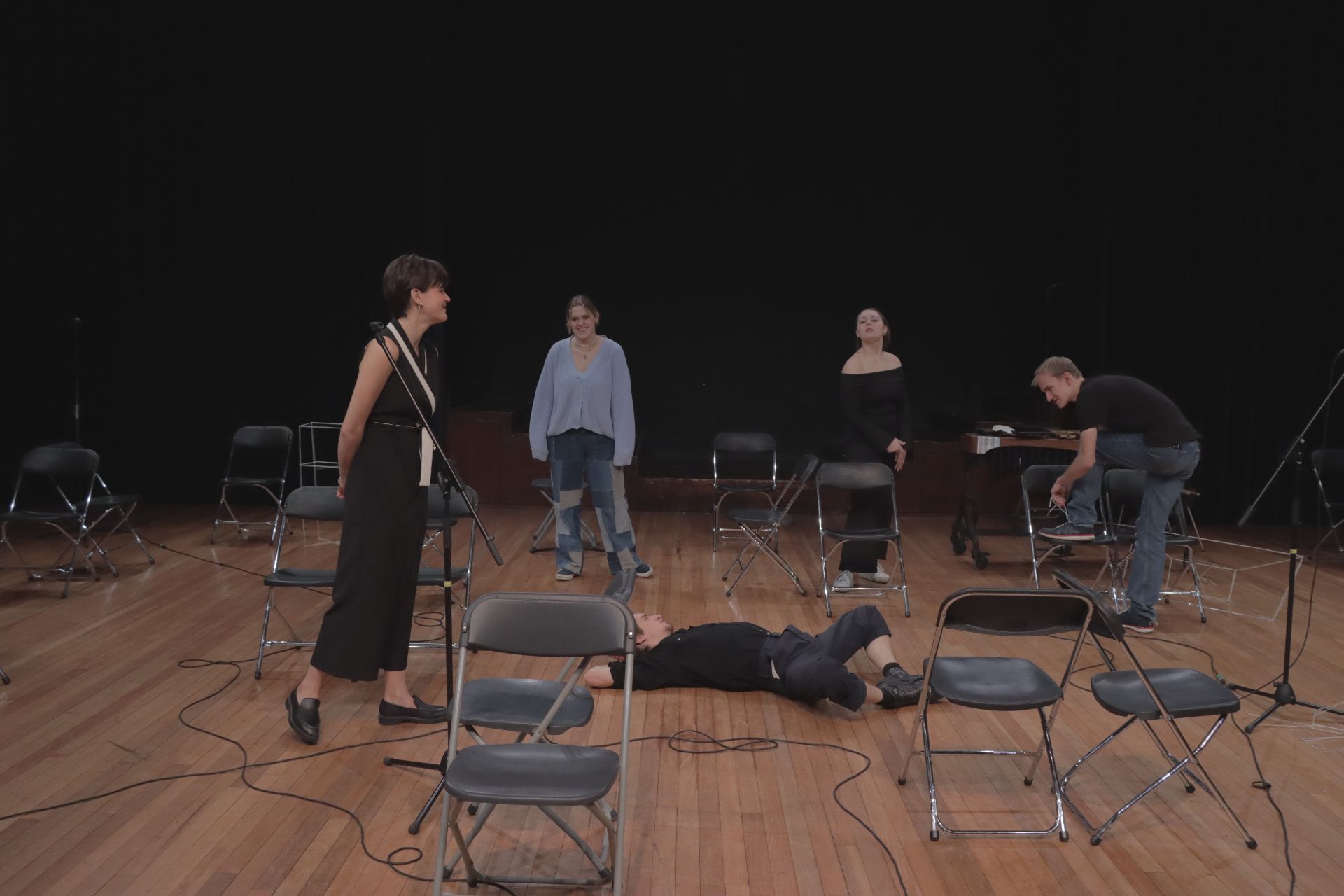 ---
THE STORY OF THE SIX DOORS
Delusions of grandeur are among us. In society and in the world around me. The individual is the centre of the Western world, and everyone lives in a different reality. Collectivity is rare. And because of algorithms that determine our interests and moods, we are more one-sided and flatter than ever. There are own truths, alternative truths, life hacks. And everything to make us forget that we are small, vulnerable and mortal. That is where I started.
Oda's story covers a world where no nuances exist. The city with its eighty-six squares is a cold concrete factory where people mainly work. And that work mainly concerns things with numbers. Numbers define and make or break a person. Oda appears to be different. She is a lost soul in this tile country and decides to resist the frameworks from which she seems unable to escape. She builds a tower on the edge of the city. An organic and unplanned structure that should showcase the wonders and power of being and thinking differently. A figurehead for dreaming freely and choosing differently. On her journey, she not only encounters herself, but also her surroundings. After all, being a megalomaniac does not come without consequences.
The megalomaniac is a quest for faith, willpower and self-confidence. It plays with the idea that delusions of grandeur are something that society can call out on an individual when they do not believe in that person. While the same great ideas might be seen as exceptional by a more accepting group. Delusional has two interpretations. And we play with both.
---
---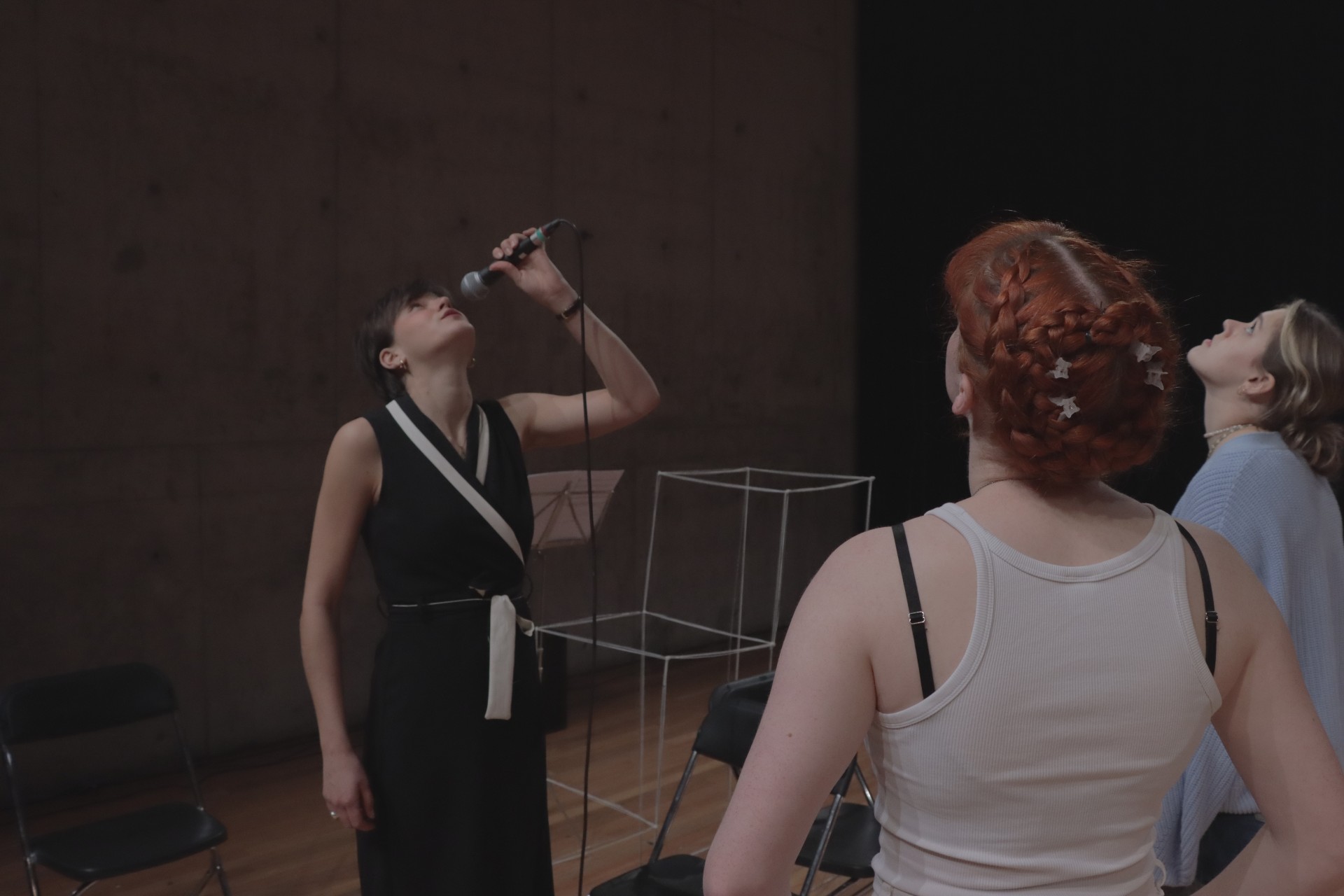 ---
FORM AND CODES
The performance is a mixture of sound design, music and narration. There is no mime or portrayal, not even classical acting. There are words, movements and glances. A nod to how stories were told long ago by bards or troubadours or grandparents on a spare bed. And an outstretched hand to an audience to put their own imagination to work. In music, we hear a viola, a flute and a vibraphone, which in Weronika Ast's composition tackle the story using leitmotifs. There is a sound design that creates subtle spaces. The more digital, the more alienating. The more Oda drifts away from reality, the more distorted the sound becomes. And the same goes for the tones of the music, which sag and twist at the end. The narrators, who tell Oda's story with a microphone, alternate between speaking narratively and acting out moments from Oda's life. This creates a full pallet of lines and threads between which the performance is woven.
---
The Megalomaniac was performed in the Toneelacademie on 20 and 21 November 2021. It was performed by Maggie Symonds, Luka Kluskens, Cor Langerak, Meike Brouwers, Noë Verschelde and Colin Crandal and composed by Weronika Ast. Text and directing by yours truly.